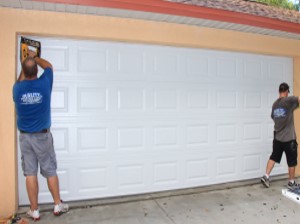 New Garage Door
Congratulations on being in the market for a new garage door! That is an exciting thing especially today where you have a lot of impressive, affordable options. Quality Garage Door Services of Florida are experts in sales and installation of brand new garage doors! We sell only the very best, brand name garage doors which have a lifetime warranty against cracking, peeling, rust and discoloration. We also know everything there is to know about hurricane loading which is extremely important when getting a new garage door in Florida. Upon learning the zone in which you reside, we will make sure you get the correct garage door that is required for your zone.
Did you know that all Florida garage door business must be licensed by the state? Did you know that every new garage door that is installed must be done to code and a permit is required? Quality Garage Door Services of Florida does exactly that for every new garage door. If your garage door company is not licensed or pulling a permit on a new garage door, run the other direction!
Our cost still remain low and most of the time lower than all of our competition because we make sure our customers get quality installation that lasts with few to no problems. Then our customers become returning customers and we don't spend as much on advertising and marketing!
A new garage door is an amazing way to increase the value of your home and enhance the curb appeal of your home since it is such a large surface area. A simple new garage door will wow you and your neighbors without hurting your pocketbook. Call us today and we will make getting a new garage door easy and painless. We look forward to your call!
Quality Garage Door Services -
Florida #1 Garage Door Company