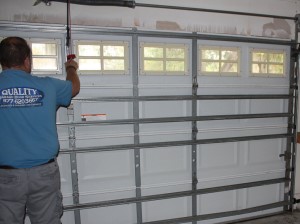 Garage Door Installation
Finding a new garage door for your home should not be a big ordeal that requires research and anxiety. When you call Quality Garage Door Services of Florida you can rest assured that you have contacted a company that you can trust and that has an outstanding reputation in the home services community of Florida. A new garage door is an exciting thing to get and we want you to have the perfect style, the perfect brand, the perfect fit and the perfect price. We have sold and professionally installed thousands of overhead garage doors in the Florida area and we are confident we can provide you with a great experience when it comes to getting a new garage door.
We pull a permit for every garage door that we install. Why? Because it is the law. If your garage door company is not pulling a permit then you have an illegal garage door install and an illegal garage door installer. That company is not licensed by the state of Florida and your unpermitted new garage door install will not be up to code and you will be fined if any inspector finds our about it.
Make sure that your new garage door is installed professionally and has a solid warranty. All of our doors have a lifetime warranty for rust, discoloration, cracking or peeling. Don't try calling up an illegal, unlicensed company a year later after they have installed the new garage door and hope they can honor the warranty because you're concerned they are no longer in business. Worse yet, they declared bankruptcy and reopened under a new name so that you cannot get them to perform a warranty call. We have seen it all. We hope that you don't experience this kind of dishonesty.
We hope that you will call us if you are ever in the market for a new garage door. We will make sure you understand everything and give you lots of great options to choose from. We will make sure everything is done precisely and correctly- especially paying close attention to your particular zone so that we can get you the right hurricane rated door at the lowest price. We look forward to helping you with a new garage door purchase!
Quality Garage Door Services -
Florida #1 Garage Door Company